Don't Let Churn Cost You: How Streaming Providers and ISPs can Boost Revenue with QoE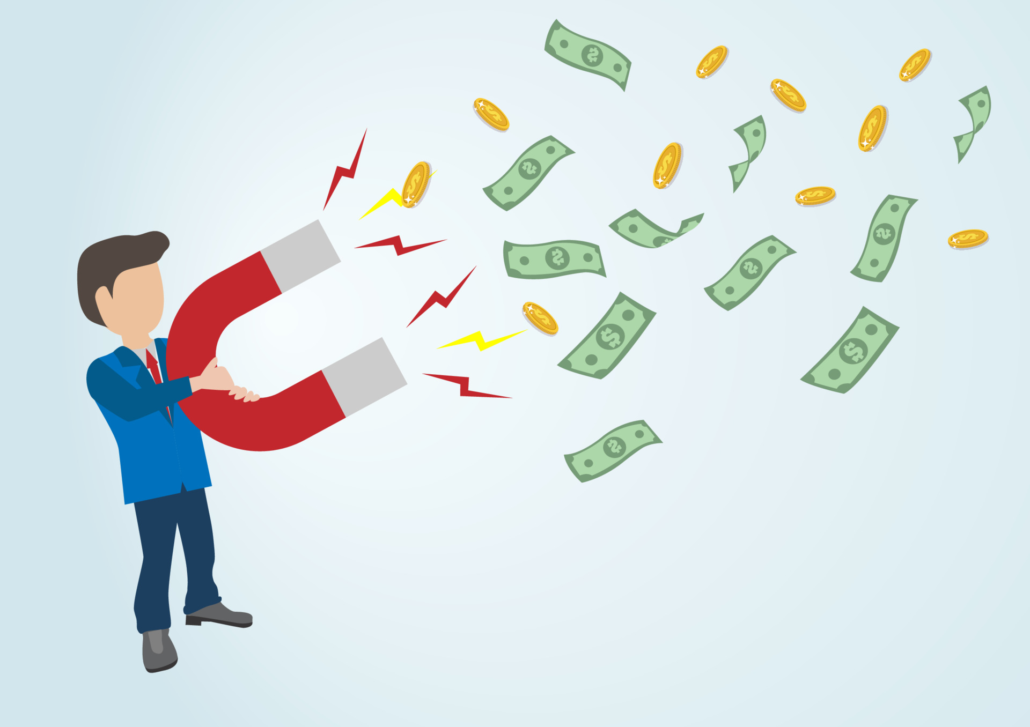 It's good to know when your customers are happy.
It's absolutely required to know when they are unhappy.

Some Head of Customer Retention during the last meeting
Nobody likes to lose customers. But to prevent that from happening, you have to know what drives churn, and how to avoid it. In this article we focus on why customer churn matters, and how to use QoE measurements to provide predictive maintenance and reduce churn. We crunch some numbers to demonstrate how much impact a small improvement in customer retention may have.
Traditional methods of measuring subscriber satisfaction, such as the number of technical support calls, are no longer effective in the highly competitive Internet era. Your subscribers may churn to a competitor without ever making a single technical support call — with free markets and free trial periods, your business rival is often just a few clicks away.
Without access to the necessary technologies and tools to monitor the ongoing subscriber experience, you as an ISP or streaming provider may be unable to anticipate potential churn and take corrective action. If you can't measure your customers' QoE, you are basically letting them churn.
Sure, you can look at overall statistics, say, Netflix' leaderboard for various ISPs: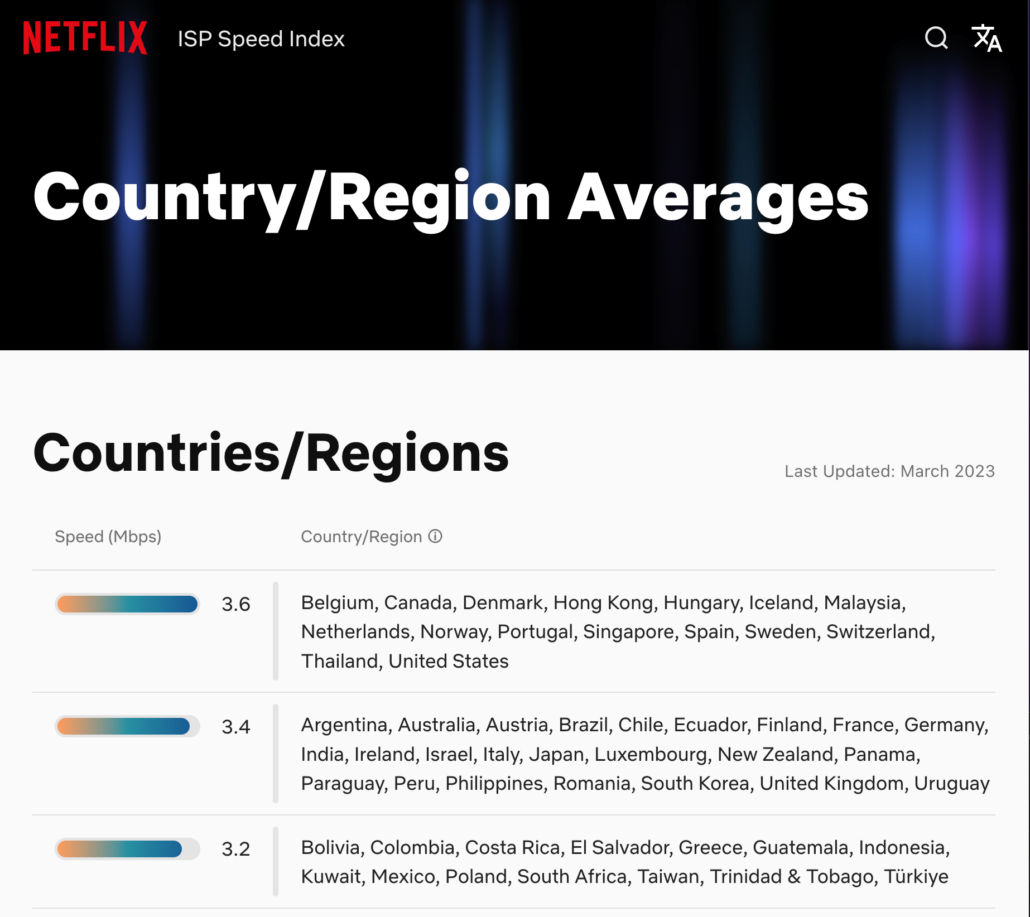 But this data is only available after a month is over. And it's just averages. And bitrates only, based on which you cannot infer how much stalling your users might have suffered. Or what their playback resolution would have been.
The inability to measure Quality of Experience (QoE) through monitoring tools is therefore a major challenge faced by many telcos, ISPs, and streaming providers. As a result, they are unable to detect rising levels of dissatisfaction among their subscribers and anticipate their likelihood of churning.
The QoE is determined by what people primarily use the Internet for in their everyday lives: video streaming and web browsing. Frustrations happen when sites don't load or when videos are frequently stalling. Simply measuring bandwidth or low-level application metrics is not enough — you want to understand what your customers experience in real time.
Leveraging QoE Measurements to Reduce Churn
Measuring the QoE of customers watching a video stream is essential for streaming providers and ISPs. By understanding how customers perceive the quality of their video streaming experience, providers can identify issues that affect user satisfaction, such as buffering/stalling or poor video quality, and proactively take steps to address them.
Predictive maintenance involves using data analysis techniques to identify potential issues with equipment before they occur. By combining QoE data with other data sources, such as network performance metrics, you can predict when problems may arise and take steps to prevent them from impacting the customer's experience. This can include short-term actions such as adjusting network provisioning to improve the quality of video streaming, or long-term actions like upgrading hardware.
For example, if you are an ISP, you can measure video quality by using active testing probes from select locations. You can get an indication of poor streaming performance — at the exact moment the problem manifests itself to customers. ISPs could then take action by optimizing the peering routes against video Content Delivery Networks (CDNs). Our Surfmeter solution can not only measure all the important global video-on-demand providers, from YouTube to Netflix, but also the local ones.
If you are a video streaming provider, you can measure QoE directly from your customers' devices using client analytics plugins. Don't just rely on CDN logs or low-level performance metrics like failed requests or throughput — use QoE measurements to understand how your customers are experiencing your service, with high-level metrics like an overall Mean Opinion Score (MOS) or key performance indicators (KPIs) like start-up time, rebuffering ratio, and video quality. We have the tools to do that.
Reducing churn is another key benefit of measuring QoE. Customers who have a poor streaming experience are more likely to cancel their subscription or switch to a competitor. By addressing issues that affect QoE, you as a provider can reduce churn and retain customers. Additionally, by proactively identifying and resolving issues before they impact the customer, providers can build customer loyalty and enhance the overall customer experience. Have a user constantly running into streaming issues? Reach out to them and ask how you can help. Help them set up their local network to ensure the problem is not on your end. Save yourself a lengthy customer call later on.
Overall, measuring QoE is critical for streaming providers and ISPs who want to maintain a high level of customer satisfaction and reduce churn. By leveraging QoE data to perform predictive maintenance, providers can proactively address issues and prevent them from impacting the customer's experience. This, in turn, leads to improved customer retention, loyalty, and revenue.
Reducing Churn is Worth a Lot of Revenue
Let's express it in Euros. (Or Dollars, what have you.)
We're now inventing a video streaming startup. Let's call it NetTube. Or YouFlix. You get the idea. They have a customer base of 500,000 subscribers. We want to understand how much money the provider can save by reducing churn.
Each subscribers' value can be expressed as the customer lifetime value (CLV). We assume an industry average churn rate of 11% and, to make our calculations more realistic, we will also consider customer acquisition cost (CAC), as each churner needs to be replaced by a new customer if YouFlix ever wants to become the next unicorn startup. In addition, we also take into account customer retention cost (CRC) — even retained customers cost money. Acquisition costs can be quite high in the telco and streaming sectors; we will assume 200€ for CAC and 100€ for CRC. Note that these are all variables — the real churn rate may be much higher. For example, U.S. telecom churn rate in 2020 was around 20%.
Now, YouFlix noticed that their architecture has problems with scaling, and that some users on an old browser version get low-quality streams. They'd get an increasing number of customer support messages that hint at various problems. But without a proper QoE monitoring solution, linking those messages to something actionable is hard. Luckily, they recently started adding QoE metrics for all their video streams. Now YouFlix can see which CDNs underperform in terms of quality, and shift to a better CDN if needed. And those customers with low QoE on their device — they get a message telling them to upgrade their system.
Our QoE monitoring program is successful. We assume that it can reduce the churn rate by a conservative estimate of 2% – even though we think it could easily be in the 4–5% with some integration effort.
Let's crunch the numbers. To calculate the monetary benefits of churn reduction for our hypothetical streaming provider with the given parameters, we can use the following formula:

Where:
Customer base = 500,000 customers
Churn rate = 11%
Churn reduction = 2%
Customer lifetime value (CLV) = 1,000€
Customer Acquisition Cost (CAC) = 200€
Customer Retention Cost (CRC) = 100€
Plugging in the values, we get 55,000 churners per year. If we reduce that by a tiny amount of 2% — we stop 1 in 50 subscribers from leaving the service — we save 1.100 subscriptions.
Each of those saved customers is worth 50% of the customer lifetime value (as some might churn early, some late in their customer lifecycle) and the difference between acquisition and retention costs. Keep in mind: it is still more expensive to win new customers than to hold them.
One churner is therefore worth 1.000 ⨉ 0.50 + 200 – 100 = 600€. As we have 1.100 fewer churners, we multiply the cost per churn with the number of subscriptions saved to get the monetary benefit of … drumroll please:
660,000 EUR revenue saved with a subscriber base of half a million. That's nice.
This represents the additional revenue the telco could expect to earn by retaining customers who would otherwise have churned, thanks to the quality of experience monitoring tools and predictive maintenance. Just imagine if you could reduce the churn rate even further, let's say by 4% …
How Surfmeter-based Monitoring Can Help You Reduce Churn
In this article we've explored how QoE-based monitoring allows you to measure what is really important for your customers, and how saving a few people from churning might improve your overall revenue by a significant amount. At AVEQ, we help you collect those metrics — we provide solutions for measuring video streaming and web browsing in an automated way.
Major international ISPs use our monitoring system to get insights into customer-relevant KPIs that would otherwise be completely unavailable. To understand how such a system could be set up and help you address customer-related service issues, get in touch and we'll talk!
And if you're a video streaming provider, let's chat about how QoE-based measurements can enrich your current analytics solution. Don't have analytics insights yet? No problem — we can also offer libraries to help you with that.
Image credit: Money Vectors by Vecteezy